Turn your ordinary Friday night into Shabbat by joining the best Jewish experience STOCKTON  has to offer!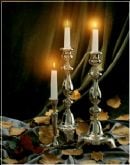 Whether it's the charm of Shabbat candles or a spirited kiddush, out of this world home-baked challa and a bowl of delicious matzo ball soup as a part of the gourmet five-course Shabbat banquet, in depth conversations into the night,  or just plain comfort of home, friends and fun, Shabbat at Chabad of Stockton is a must for everyone to experience. Shabbat dinner is completely free, so come and bring a friend! 
Occasional Shabbat dinners at Chabad will provide you an intimate and elegant setting to eat, meet new friends, and celebrate Shabbat in a warm and enjoyable manner.
Shabbat at Chabad features five courses of traditional classics and updated favorites.  
There is never charge for a Shabbat dinner at Chabad, but you or your family can sponsor a Shabbat for an upcoming birthday, graduation, or just because.
Bring your friends home and taste one of the greatest treasures known to the Jewish people - Shabbat.